- Now a Resident Artist at Mixed Media Art School - online mixed media workshops - 
Collaborations with
Caylee Grey  -  @GetMessyArtJournal 

Kristi Nazzaro - @soulpositive
Simone Stamm  -  @monaschreibt
... and some new stuff is in the making!
July  -  TAE21 online exhibition supporting "The Leukaemia and Intensive Chemotherapy Fund" - Cheltenham, UK
p a s t  e v e n t s
-  2 0 2 0  -
 -  Now  t e a c h i n g   o n l i n e -
Teacher at  W a n d e r l u s t   2 0 2 0  - online mixed media courses
Dezember - collaboration with Tamara ( IG - MaraKreativStudio ) -  our first year of #ArtJournalAdvent on Instagram
September - online exhibition at the 20th annual "Evening of Arts" -  "20. Lange Kunstnacht" - Landsberg am Lech, Germany
April -  Hosting Orly Avineri at Lake Ammer for her workshop "Passport to Journal" - cancelled
April  -  TAE20  online exhibition supporting "HCSDN" - Myrtle Beach SC, USA
-  Now teaching at the Adult Education Center  "VHS Ammersee Nordwest", Germany  -
October - Exhibition at Gudrun Sjödén's Creative Evening in Munich, Germany
September - Exhibition at the 19th annual "Evening of Arts" -  "19. Lange Kunstnacht" in Landsberg am Lech, Germany
June - Publication in "ART Journaling" from Stampington Publications, USA
May - TAE 19 Exhibition  supporting "Art for Healthcare" - Edinburgh, Scotland

April - My YouTube channel "RaspberryBlueSky" goes online!
- 2 0 1 8 -

-  Now teaching at the Adult Education Center VHS Fürstenfeldbruck, Germany  -
November - Exhibition  "Der See und wir", Blaues Haus Dießen, Germany
September - Exhibition at the 18th annual "Evening of Arts" -  "18. Lange Kunstnacht" in Landsberg am Lech, Germany

June  -  Publication in "Sew Somerset" from Stampington Publications, USA
June - Exhibition "Pieces of Me"  { Kunstautomat Landsberg } Landsberg am Lech,Germany
 May - Exhibition "Vielfalt" -  Landsberg am Lech, Germany
April -  TAE18 exhibition supporting Pegasus Riding for the Disabled of ATC Inc.  -  Canberra, Australia
- 2 0 1 7  -
 -  Now teaching at the Adult Education Center VHS Landsberg am Lech, Germany  -
October - Publication in "ART Journaling"  from Stampington Publications, USA
October -  Exhibition "Sommerausstellung" - Penzing, Germany
September - Exhibition "KünstlerStammtisch Raisting"  "Verbindungen" - Wilzhofen, Germany
September - 17. Lange Kunstnacht in Landsberg am Lech
May - Exhibition "Fuego" - Phoenix AZ, USA
 April -  TAE17 Exhibition  supporting Molly Olly's Wishes  - Stratford upon Avon, United Kingdom
January - Publication in "Somerset Studio Gallery" from Stampington Publications, USA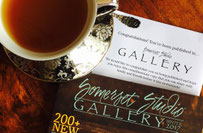 November - Exhibition supporting Ärzte ohne Grenzen - UK
June - Exhibition with "KünstlerStammtisch Raisting" Holzhausen am Ammersee, Germany
March - TAE 16 Exhibition supporting  Foster Pride - New York City, USA
January - Exhibition with Roland Schamberger "Imaginarium" - Landsberg am Lech, Germany
 - 2 0 1 5  -
Exhibition with "KünstlerStammtisch Raisting" - Wilzhofen, Deutschland
 - 2 0 1 4  -
Exhibition with "KünstlerStammtisch Raisting"  "Wandel" - Holzhausen am Ammersee, Germany